UpTime Support Subscription
Whether you run Hypertable in your own datacenter or in a public cloud (EC2, Rackspace, ...), the Hypertable UpTime Support Subscription will give you maximum assurance that your scalable database infrastructure will always be up and operating smoothly. We'll take care of the database so that you can focus on your application.
The Team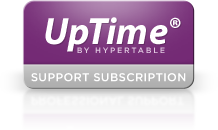 Hypertable Inc is the employer of all core Hypertable developers, and every line of code that is written and committed to the project is carefully reviewed by our engineers before it is accepted.  This means that multiple members of our team hold deep and intimate knowledge of every part of the Hypertable code base and are at your disposal to isolate problems with maximum efficiency.  Hypertable Inc is a global software company with support staff located in both Europe and the United States, offering uniterrupted support, twenty-four hours a day, 365 days a year.
What You Get
The Hypertable UpTime Support Subscription includes the following:
Support for Hypertable and Hadoop Filesystem
Unlimited emergency contacts with problem resolution
30 minute or 12 hour response time
24/7/365 or M-F US Holidays excluded
Architectural Assessment and Performance Evaluation (see sample)
Application Design Review
Direct access (IM, e-mail, and phone) to the all core Hypertable development team
Access to fully-tested pre-release binaries
Get Started Today!
Contact one of our sales representatives today to get started by emailing us at sales@hypertable.com or call us directly at +1 650 401 6038.